Customer Reviews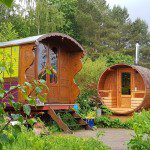 We are very happy with our eco sauna and it's my absolute favourite sanctuary to go and enjoy the peace and quiet to read or just to watch nature through the full panorama window.
---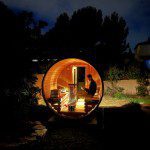 Le sauna est extrêmement qualitatif, quant à la livraison tout à été respecté dans la ponctualité bien que notre domicile soit dans le sud de la France, nous venons de faire notre 1er sauna et c'est un plaisir !
---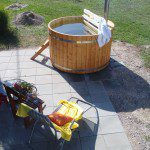 I want to thank you for perfect communication in my decision to buy a hot tub.
---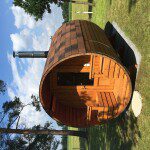 Thank you for the great sauna! Pictures do not give justice to how good these look and for the quality they are.
---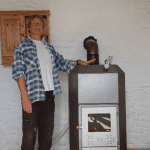 I adjusted the flow rate to 1500 litres per hour and it raised the temperature of 10,000 gallons from 12.5 to 27 degrees with about 12 hours of slow burning wood. (5 x 50 cm long logs at a time….30 in all).
---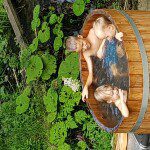 We and our guests trully enjoy hottubbing during all year and under all weather circumstances, it is a great plus for our offer accomodation of two wooden chalets in woods and by the stream at NP Plitvice lakes.
---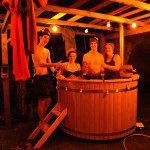 We are pleased to inform you that the installation of the Badetonne has gone perfect, thanks to the high quality of the goods delivered. Thank you very much for the professional service and quick delivery!
---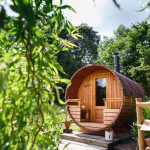 Sauna in place and working very well. Thank you, loving the sauna.
---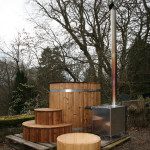 I never hesitate to tell people that are interested about Sauna-Badetonne as a fantastic Company. Both for products, service and great after sales.
---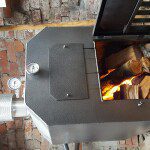 I am very pleased with its performance. It is very effective. Thank you for the service and particularly the speed of delivery.
---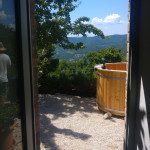 Thank you for your help, you have been very professional and answered all our questions so quickly. I am delighted with the service you provided and very happy to provide recommendations. I look forward to using it.
---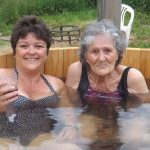 Thank you for our hot tub, great product, knowledgeable advice and prompt delivery.
---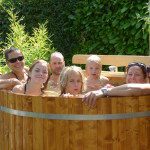 My hot tub is fab, it heats up really quickly and does just what you said it would. It is very good quality and the manufacturing standard is very high.
---
I am writing to thank you, and your Company, very much indeed for the excellent service I received from you, before and after purchasing one of your wooden Hot Tubs – 1.7meter spruce with internal furnace.
---
We are very pleased with our new barrel sauna. Would thoroughly recommend having one.
---
I am very happy with the product, it looks fantastic. Thanks for all your help.
---
It is a high quality hot tub and is brilliant, especially sitting at night time watching the stars.
---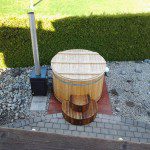 Hot Tub is fantastic, really enjoying it.
---
Amazing, and so simple to move.
---
We love our new hot tub. Purchase and delivery were excellent, very prompt with no problems.
---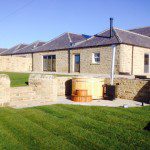 The hot tub arrived yesterday, as you can see from the attachment we assembled this morning in about an hour and it looks fantastic.
---
I'd like to thank you and Sauna-Badetonne for the professionalism, support and a great, quick service.
---
Thank you.
---
From start to finish the customer service received from Sauna-Badetonne has been excellent.
---
My Hot Tub arrived this afternoon, all complete and sound.
---
Thanks for the heater.
---
When it arrived we were delighted to see such a high quality product, with such good attention to detail, it appears so well designed that it will last a very long time.
---
Our guests at Hoe Grange Holidays absolutely love our Sauna. It's so quick and easy to heat up.
---
We ordered a wood fired sauna for our luxury campsite and have been extremely impressed with both the service and the quality of the building.
---
We were very impressed with Sauna Badetonne's before, during and after-sales service, and the communication was excellent.
---
The www.sauna-badetonne.de team were a dream to deal with from start to finish.
---
Thank you so much. The sauna works wonderfully, we are very pleased.
---
The quest love the hottub and so is everybody who passing by the chalet :)
---
Our new Hot Tub and stove etc, all arrived this morning, thank you very much.
---
All appears to be in order and to high standard. Congratulations to your team.
---
It has been a pleasure dealing with you.
---
Hot tub is in and looks great.
---
Thanks.
---
The sauna is on place and working good.